EFFORTLESSLY MAKE DELICIOUS CREPES IN SECONDS!
Love eating crepes, but never knew how to make them? Cooking crepes is almost an art. Get it wrong, and your delicate crepe can quickly become a char-grilled mess. Well, that's quite sad but true!
With the Crepe Maker, you'll only need just a couple of seconds to make beautiful crepes that come out perfectly cooked every time. Perfect for beginners who love quick, easy, and yummy crepes for breakfast or brunch!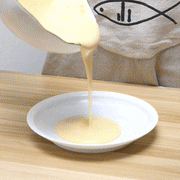 What are the benefits?
🍳 MAKE TASTY CREPES QUICKER & EASIER: Lets you dip and cook the batter until the edges start to turn golden brown and release into a serving plate. No need to flip or put any non-stick spray—it's that easy!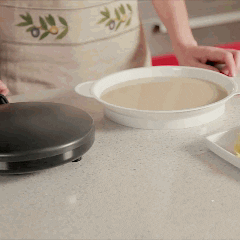 🍳 START YOUR MORNINGS HAPPIER: Helps you to make crepes for breakfast or brunch in seconds. Create a delicious and nutritious meal for your family even when you're still half asleep! 
🍳 COOK ANYTHING YOU WANT: Prepare crepes, pancakes, soft tortillas, tacos, blintzes, eggs roll, chapati, and many more. Easily create breakfast favourites in seconds with no cooking experience!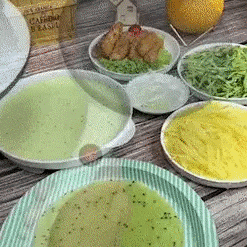 🍳 EASY-TO-CLEAN: Simply wipe with a paper towel, so you can put it away or use it again! A lightweight and easy crepe maker without the mess!
🍳 SAFE TO USE: Made with a Food-grade non-stick coating surface and Automatic Temperature Control, never have to worry about burning your food!
HOW TO USE:
Step #1:
 
Prepare a batter mixture and put it in the batter mixture holder provided. 
Note: Batter Mixture recipe is not included. 


Step #2:

Turn on the crepe maker and wait for 2 minutes to heat up.


Step #3:
 
Dip the Crepe Maker on top of the butter mixture, with the heating surface in contact with the batter.


Step #4:
 
Flip the crepe maker upwards and wait for it to cook. If the batter is already cooked to your liking, remove it from the crepe maker. You can or may use a spatula. Enjoy!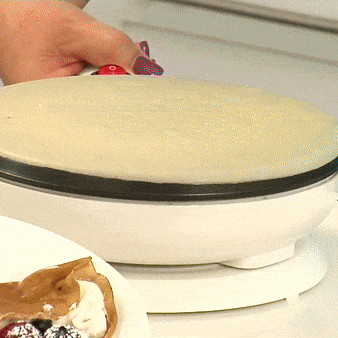 SPECIFICATIONS:
Material: Carbon steel + Non-stick coating
Pan Diameter: 20cm / 7.87 in
Length: 42 cm / 16.5 in
Cable Length: 0.7m / 2.29 ft
Heat Resistance: 230℃ / 446 ℉
Pan Type: Non-stick Griddles & Grill Pans
Work Type: 60Hz, 800W
Certification: FDA
Weight: 890g
Package includes: 
1 x Electric Pan
1 x Heat-resistant oil brush
1 x Batter mixture holder
DON'T MISS OUT ON THIS!
ORDER NOW AND START MAKING DELICIOUS CREPES TODAY!
Our Guarantee:
Free Shipping Worldwide:
🚚. Your order will take 2-4 weeks for delivery to

 the 

United States, Canada, United Kingdom, Australia, New Zealand and all European Union Countries.

🚚. Your order will take 2-6 weeks for delivery to the rest of the world.
Disclaimer:

 Product shipping times might be delayed due to the events brought by the coronavirus as well as an increase in online sales. Please bear with us; stay home and keep safe.