ENJOY BETTER & CLEANER AIR WITH ULTRASONIC HUMIDITY CONTROL TECHNOLOGY!

Suffering from dry skin, itchy eyes, coughing, or frequent allergies? Air that's too dry takes out valuable moisture from your skin. Raising the risk of irritated eyes and sinuses to respiratory and skin conditions.
Live a better and healthier life with the Mini Air Humidifier! It cleans the surrounding air better with the new Ultrasonic Humidity Control Technology. So you can breathe easier and feel more comfortable in your own home, workstation, or even in your car!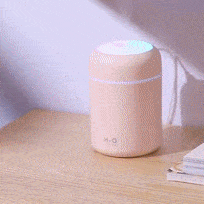 🍃 CLEANS THE AIR YOU BREATH: Controls air humidity to keep the air moist—keeping you healthy and free from dry skin, nose, throat, or lips!
🍃 KEEPS YOUR SKIN HEALTHY: Moisturizes your skin to reduce skin infections and symptoms due to dry air, so you won't have to worry about dry, itchy, and flaky skin!
🍃 PUTS YOU IN A RELAXING MOOD: Relieves mental stress with the low-noise mist and colourful RGB night settings. Be in a calm state with just a touch of a button!
🍃 TAKE IT ANYWHERE: Powered by a USB power cable, you can purify the air in your car, workplace, living room, bedroom, and more!
How to SETUP:
Step #1: 
Pull up the cover and take out the tube compartment.


Step #2: 
Separate the components of the tube compartment. 


Step #3:
You should see a spring and cotton swab inside (for first use, there is none). Correctly place the spring inside the tube compartment first. 


Step #4:
Then, put in a cotton swab. 


Step #5: 
Put together the tube compartment and the top cover, with the cotton swab facing towards the hole. 


Step #6:
Add distilled water to the water tank/base of the humidifier. Up to 300mL of water can be placed inside. 


Step #7: 
Connect the top cover and fasten it into the water tank/base of the humidifier.


Step #8: 
Connect the USB power cable and press the button to turn it on. 
SAY GOODBYE TO DRY AIR & ALLERGIES TODAY!
CLICK THE ADD-TO-CART NOW!
LIMITED SUPPLIES LEFT!
Specifications:
Material: ABS + Silicone
Rated Input: DC 5.0V / 1.0 A
Working Current: 250-350 mA
Size: 78 x 78 x 119 mm / 3 x 3 x 4.68 in
Weight: 106g / 0.233 lb
Tank Capacity: 300 mL / 10.14 fl oz
Spray Volume: 30-45 mLh
Package includes:
1 x LED humidifier
Our Guarantee:
Free Shipping Worldwide:
🚚. Your order will take 2-4 weeks for delivery to

 the 

United States, Canada, United Kingdom, Australia, New Zealand and all European Union Countries.

🚚. Your order will take 2-6 weeks for delivery to the rest of the world.
Disclaimer:

 Product shipping times might be delayed due to the events brought by the coronavirus as well as an increase in online sales. Please bear with us; stay home and keep safe.